Elite Groom
Service Includes: Basic Spa Bath plus full body cut with hand scissored finish.
Small Dogs – $49.00 – Up to 25 lbs.
Medium Dogs – Starting at $54.00 – Up to 50 lbs.
Large Dogs – Starting at $59.00 – Up to 100 lbs.
*All services include a spritz of cologne and your choice of bandana, bows or a flower on the collar.
Our Guarantee
Here at The Hairy Hound we guarantee Great Service, A Loving Staff & Pet Approved Pampering for your best friend. It is our pleasure to take the time necessary with your pet to make sure the grooming experience is as stress free as possible, not only on the pet but the owner as well. We take our time and it shows in the pet's wagging tail coming in and going home. Many of our customers claim their pups get so excited to come see us & yours will too!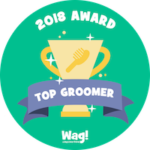 Pet Approved Dog Grooming — Book Today!
Serving
The Hairy Hound is one of the local favorites for Dog Grooming Services in Clearwater, Florida. We serve the greater Tampa Bay area including: Tampa, Clearwater, St. Petersburg, Tarpon Springs, Palm Harbor, Dunedin, New Port Richey, St. Pete, Port Richey, Largo, Pinellas Park and Clearwater Beach.