Ruth Watts, Owner & Lead Groomer
Hello, my name is Ruth Watts and I am the Owner & Head Groomer of The Hairy Hound as of March 2013.
Previously I owned Country Clippers dog grooming salon in Palm Harbor for six years. I attended the Bay Area Pet Grooming Academy and received my diploma in May 2007.
While growing up in England I started working with dogs at age 14 and went on to work in various boarding, breeding , and show kennels. After meeting my husband in Italy I then relocated to America in 1981.
I spent several years at home raising our three children and breeding pugs. The kids have grown and moved on and I'm back to full time grooming which has always been my passion!
I will always take the time with your pet to make sure you are happy with the final groom, but more importantly that your pet is happy coming to The Hairy Hound.
Our Guarantee
Here at The Hairy Hound we guarantee Great Service, A Loving Staff & Pet Approved Pampering for your best friend. It is our pleasure to take the time necessary with your pet to make sure the grooming experience is as stress free as possible, not only on the pet but the owner as well. We take our time and it shows in the pet's wagging tail coming in and going home. Many of our customers claim their pups get so excited to come see us & yours will too!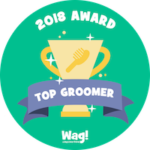 Pet Approved Dog Grooming — Book Today!
Serving
The Hairy Hound is one of the local favorites for Dog Grooming Services in Clearwater, Florida. We serve the greater Tampa Bay area including: Tampa, Clearwater, St. Petersburg, Tarpon Springs, Palm Harbor, Dunedin, New Port Richey, St. Pete, Port Richey, Largo, Pinellas Park and Clearwater Beach.